Please pray over our "pre-call letters"
"I am with you," declares the Lord.




So the Lord stirred up the spirit of the people




and they came and worked.




"Take courage…Take courage…




Take courage… and work.




For I am with you,"




declares the Lord. "Do not fear."




Haggai 1:13 - 2:5
To write this email, I replace the text in the template I created when I made the list. Today I read it before deleting, only to discover a long list of answered prayers. We asked for a car for Chris to use (received!), wisdom about whether Chris should return to work (he has, and although we hate the circumstances we are no longer stressed about money and are therefore able to devote energy when we DO have the time), and for our tax refund situation to be resolved (it was, with good results).

It is so good to praise God for what he has done for us in the past! I invite you to do that with us before I make a couple new requests. He is so good to us. So many blessings, and so MANY blessings we fail to pray for and remember (such as how healthy and delightful our children are).
The meetings we had in February may have netted one new partner. They are still praying and considering the amount. Please pray for partnership and blessing for them, as their income is variable. One of the meetings resulted not in partnership, but a mother's helper 2 times a month. That's a blessing!

This week we did some "namestorming" of people from our past we can reconnect with and share our vision and financial needs. This week I will send a pre-call letter/email/Facebook message. Next week I will reach out by phone if possible, or keep pestering over email. Please pray that God would use these connections and grant us meetings. Please pray I stay organized and on top of the calls.

We had a professional do our taxes this year and it went smoothly but the status has been "sent" for almost 2 weeks. That's pretty long, even for USPS. We can contact them to resolve it on April 3.
Thank you all, from the bottom of our hearts, for joining us in prayer regularly over our ministry. Even today there was opposition and I asked God to just give me time to send a letter. He did.

God bless you!

rose for all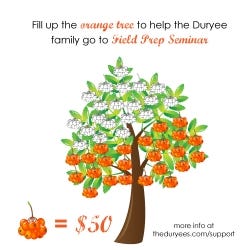 Pray God fills this orange tree with orange bunches!