Surprise First Days of School on the Mission Field
Update on Support
We have good news/bad news regarding our support needs. The good news is that our requirements haven't changed. Our sending agency lowered our requirements before we left for the field with the hopes of helping us get there faster. It did, and the required funds are sufficient. We're so thankful to be able to steward God's money wisely.

We are bringing in about $1500 less than is committed, however, so we've dipped into Outfit & Passage funds to cover some monthly costs - especially those associated with schooling.

For ways to help and more details about our finances, visit this page at theduryees.com.
Bustling Alcalá de Henares
Greetings from Spain! On Thursday evening, the day before the first day of school in our city, I walked to church for a ladies Bible study on Psalm 77. Many things weighed heavy on my heart, as we were right in the middle of making a big decision about whether Austin should attend the school he was assigned. Nothing felt right, God felt silent, and I was frustrated and insecure. Psalm 77 was just the balm I needed.

Although I was very self-focused, on my walk the Lord drew my attention to the now-bustling city. We arrived in Alcalá just before vacations began for Spaniards, and as a result, the city has not been at capacity since we've been here. Many businesses close during August, or hold reduced hours, and traffic was light nearly everywhere we went. I suddenly became aware of how long I waited to cross the street, groups of teenagers clustered on corners, families walking from the park, business lights and open doors.

I thought to myself, "Alcalá is full of people, and I'm going to one of the only churches around. They know our building not because they've heard God's word preached there, though they would if they came in, but because of its location between two pizza places. Oh, God, that you would USE US!"

I've been blogging at theduryees.com about our recently challenges related to the kids schooling. Pop over there to read more, and consider signing up to receive those posts via email as well.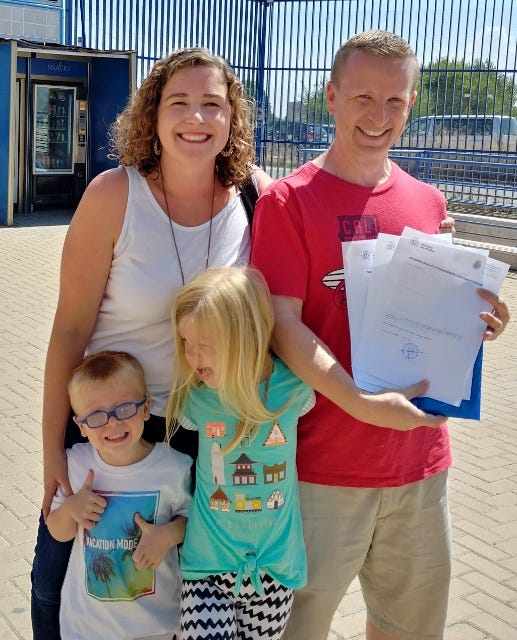 This paperwork means we are finally, officially residents of Spain! We picked up our actual cards on Monday. Until next year!
Praises:
We are officially residents with legal documentation. We have a bank account and much more "legitimacy."

We were able to purchase a car!

The kids like their schools, love their teachers, and we are all adjusting.

Chris has begun taking practice driving exams and theory classes.
Prayer Requests:
That our couch would arrive this week. We've waited a long time.

For Chris to do well on his practice exams for driving school

For help as we all adjust to the new school schedule

That God would show Rosalie especially what His plans are now that we are not homeschooling

That God would provide for the deficit in monthly support and our Outfit & Passage funds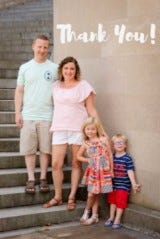 We would not be here without the prayers and financial support of our partnership team. The extra gifts, notes and continued faithful giving have NOT gone unnoticed. Visit our personal support link to join our team today!
Upcoming Events
September - School begins for Susanna (Evangelical Christian Academy) and Austin (Spanish Kinder)
- Friday Bible clubs (pray that children who came to VBS will come to our Bible clubs)
October 7 - Shared church service with other area churches
November - Ladies retreat