Duryee Family Prayer Letter - October/November

What do we do all day?
We keep promising a video but it's a big undertaking for us these days. Thank you for faithfully reading our prayer letters, interacting on social media, and presenting our needs to the Lord. We truly believe that prayer is the boat keeping us afloat. Last month, for example, only 4 children were coming to our Treasure Club, a kids Bible club we host on Friday afternoon. We began praying regularly for more attendees, and we've seen more kids each week since then.

A good portion of both of our day is transporting children to school: Chris drives Susanna to and from ECA each morning and afternoon, and I walk Austin to his nearby Spanish school twice a day. In between transporting kids and preparing meals, Chris and I both spend time on our phones taking practice driving theory tests, and we also go to a class on weekday mornings. Tuesday evening Rose goes to a ladies' Bible study, Wednesday evening we go to the church's prayer meeting, and Friday evenings Susanna goes to Bible Club. Each one of those meetings is another opportunity to practice Spanish, which is the main focus for us this year. On our free evenings, we head to a nearby park or down to our apartment play area to chat with the neighbors. Chris has been invited to play fútbol with a neighbor and his friends once a week.

On Monday, November 19, Chris will sit for his theory exam. We are supposed to be in Portugal by then, for the Spain/Portugal missionary meeting, but the exam only happens once a month, so we're planning to drive to Portugal on Tuesday instead.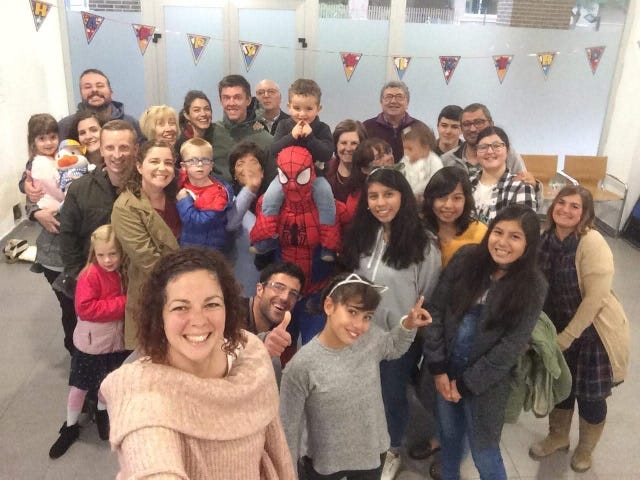 Here we are celebrating a birthday with a number of our good friends from church.
Praise the Lord!
Just because God is God, we praise Him!

He is with us, and with our children, when we face difficult circumstances

For the relationships we've made with believers at our church and unbelievers in our community

For the "friendsgiving" we hosted with some English speaking friends from Austin's school
Pray for us:
That Chris would pass his driving theory exam on Monday, November 19 (9 am Spain time). The test is in Spanish!

To be refreshed during our time with other ABWE missionaries in Portugal

To be good witnesses to our friends and neighbors, and to answer clearly their questions about what we are doing in Spain...

And that God would use us to draw others into relationship with Him that is based on Jesus' finished work on the cross and NOT on our efforts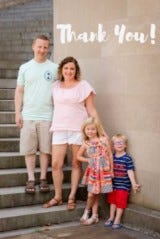 We are so grateful for the monthly support we receive and the special gifts that come in during the holidays and on our birthdays. They make us feel truly special and remembered. We are still receiving slightly less each month than is promised, but God meets our needs each month. ABWE is anticipating an increase in health insurance costs for 2019, and we will reevaluate our support requirements then.
There is a cultural stumbling block in Spain when it comes to knowing the Lord intimately. Many people who profess to be born again continue to believe they can and should earn their salvation with good works.