Duryee Family Prayer Letter - September 2019

Serving God Faithfully
Now that summer is over and our school and yearly schedule has begun again, we are prayerfully involved in many ministry opportunities. Please read ahead and continue to join us in prayer. We need God's help!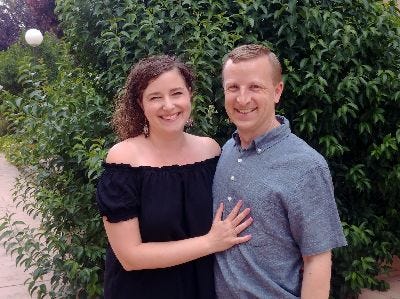 God's timing is best
In 2009, we were flying home from our survey trip to Spain on our 5th wedding anniversary. In 2010, we celebrated 6 years of marriage at ABWE headquarters for new missionary orientation. Every anniversary since, we've wanted to be here again.
This summer, we celebrated 15 years of marriage in Spain, with a regular movie date while our children spent time with our closest Spanish friends. We could never have imagined what God would have in store for our marriage, but we are thankful!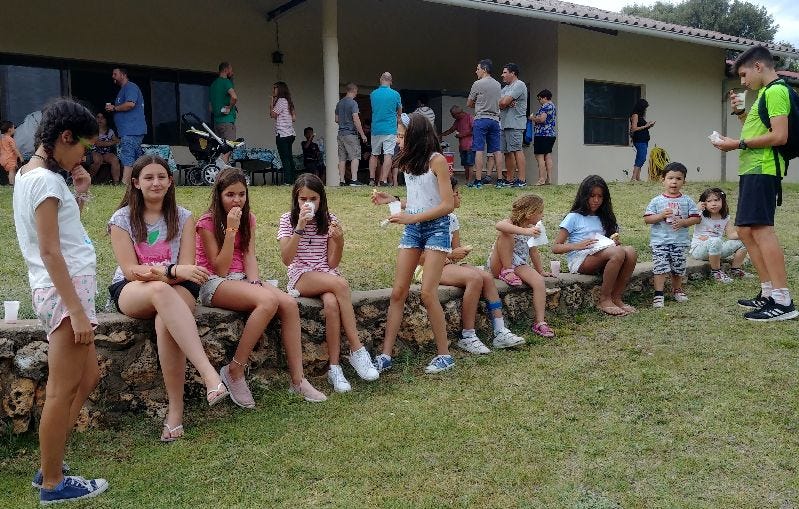 Kids lined up for the merienda (afternoon snack) at this year's family camp.
A Brief Ministry Update:
In we highlighted the summer ministries we had coming up: English camp, VBS, family camp, and various responsibilities we took on in our coworkers' absences.
We have our needs met, but we are still $500 under supported each month due to childrens' education and insurance increases from last year. You can share our ministry by forwarding a prayer letter or directing people to theduryees.com.

This morning we went to the national policía to request residency renewal, and it was granted! We are renewed for one more year. Next summer we'll renew for 2 years.

The summer ministries went great! We had some new faces at English Camp and now we are praying that many students come for our Friday Bible clubs. Tonight we will pass out invitations.

Rose is sharing responsibility for the preschool class with Rebeca, our Spanish pastor's wife, and they are excited to be using a fun new curriculum. We're thankful to have resources like that in Spain.

Chis continues guitar lessons, running the sound, and planning games for the club.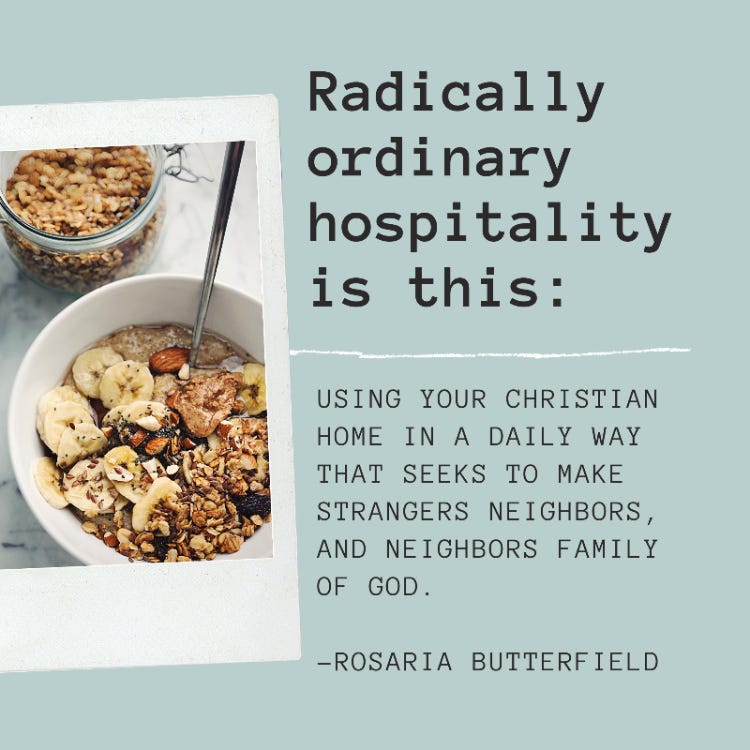 Biblical hospitality continues to be our heart's main desire as we serve in Spain. Please pray for us as we try to reach our neighbors and friends through language exchange, Birthday parties, meetings for coffee, family park dates, cheering Austin's fútbol team together, meeting people through different activities we do, celebrating holidays, and as we pray about where God wants to use us. I'll be writing about this in a series on the blog.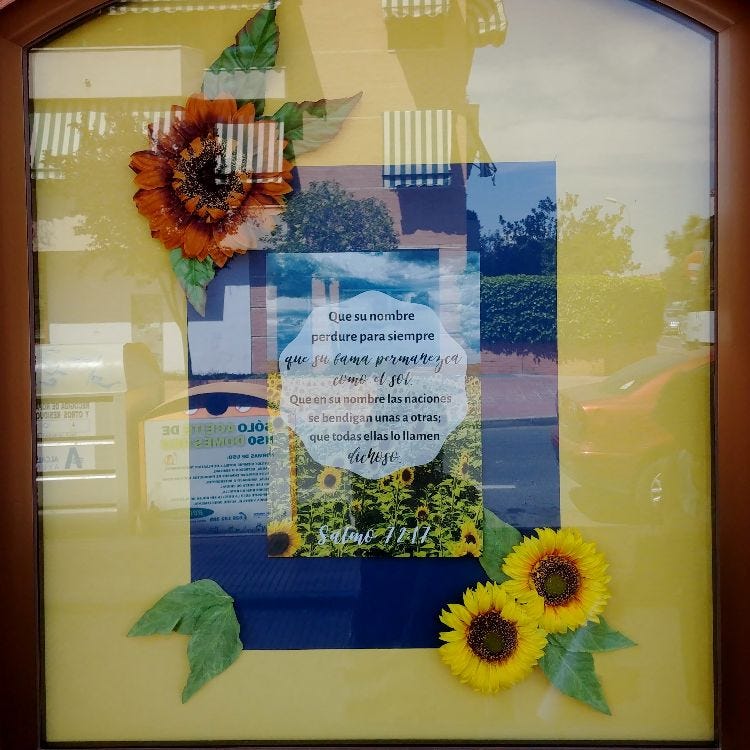 Rosalie is using her creativity and graphic design skills to update the window display at the Centro Evangelico every couple of months. We try to use this space for encouragement and to shine a light on the true Gospel here in Alcalá.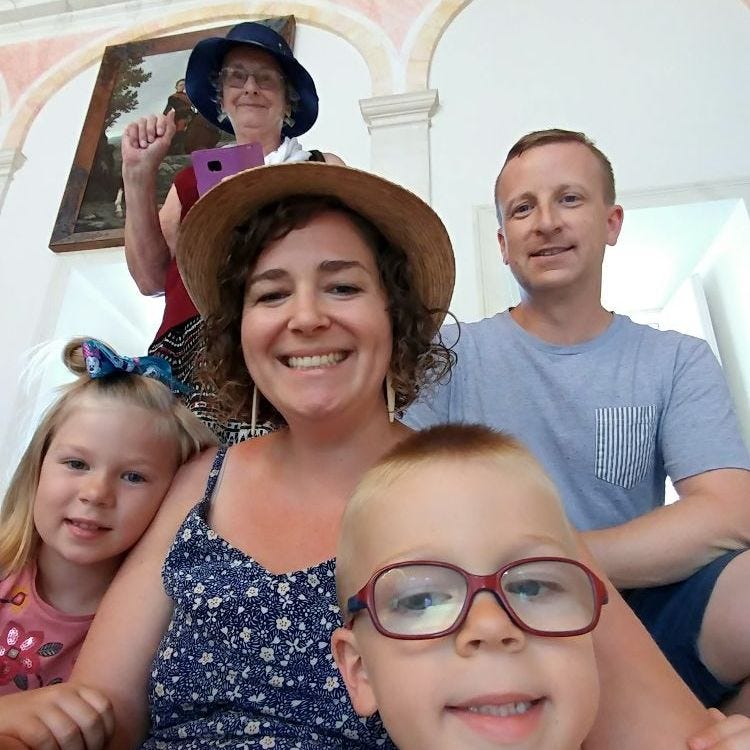 Summer Visitors
Rose's grandma Jan came to visit in July and enjoyed visiting our church for prayer meeting and Sunday Services. We explored Madrid and one of the royal palaces, among other things. It's a blessing to host visitors!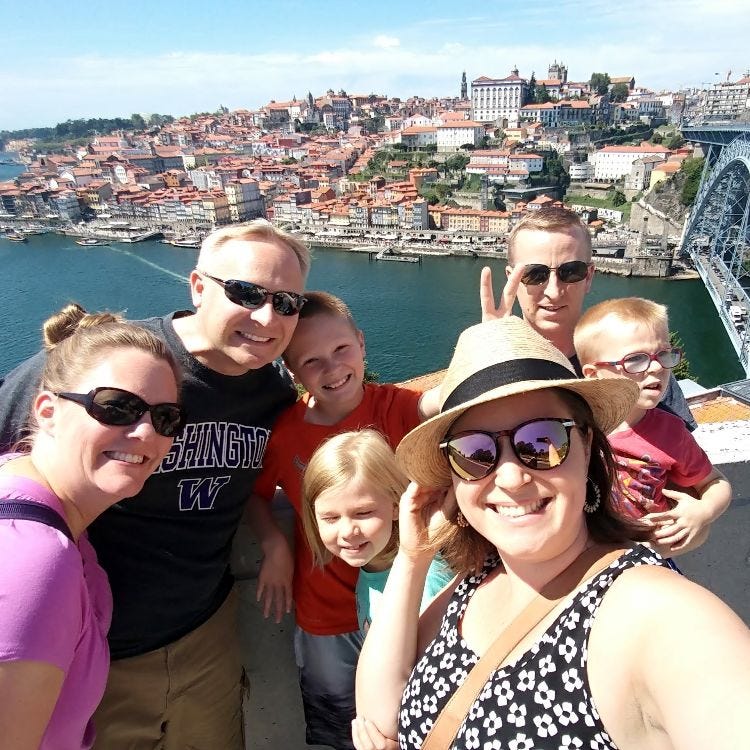 Some time off
After the hustle and bustle of English camp, vacation Bible school and Family Camp, we met Chris's brother and family in Porto, Portugal for a little time away before they joined us in Madrid. The reuniting of these silly cousins after a year and a half was very special.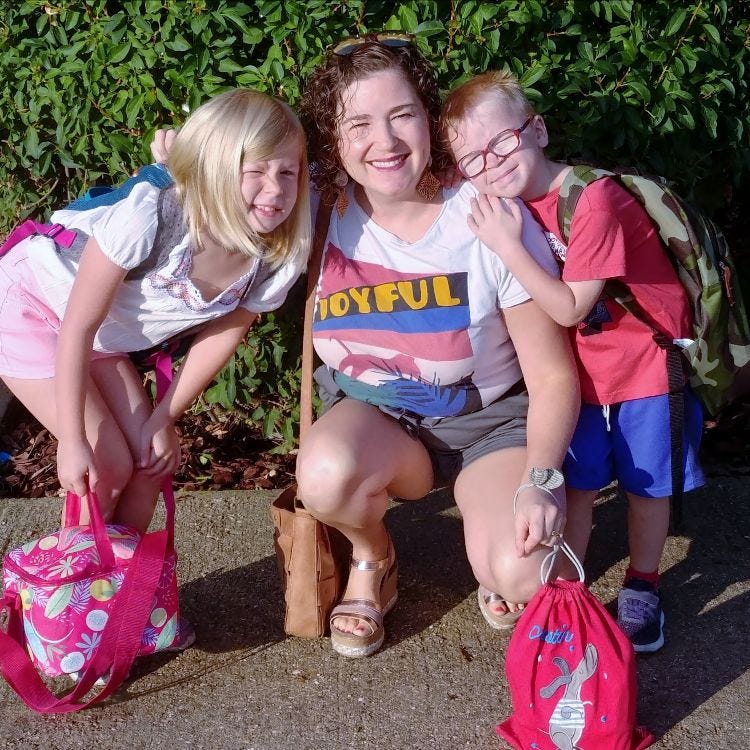 School started early
Both Austin and Susanna are now at Evangelical Christian Academy full time. We're thankful for our year with Austin in Spanish school, but we're also thankful for how our kids blossom and shine in the nurturing environment of an international school that supports our values at home.